*This post contains affiliate links.
Did your daughter fall in love with Sofia the First, the Disney Princess who premiered in the Disney Junior original movie Once Upon a Princess? The newest member of the regal line-up was just a regular girl until King Roland fell in love with her mother, Miranda, and now she is royalty! Along with twin step-siblings, a new step-father and a new way of life, Sofia has a lot to learn and a new role to grow into.
With a beautiful lavender gown, a magical amulet that gives her special powers, jewels, a tiara and those adorable talking animals, it is no wonder why girls are clamoring to have this theme for their next party. In addition, the music that is played during the show is simply infectious! On top of all of the things Sofia has, she is genuinely kind to everyone she meets. Princesses have always been popular with girls, and a pint-sized one like Sofia is one that they girls all adore!
Here is how you can plan a Sofia the First party for your special girl.
Princess Sofia Invitations and Stamps
Every party needs a real invitation. Little kids should know the joy of getting an envelope in the mail addressed just to them! Sending out invitations that have the party them on it really sets the tone.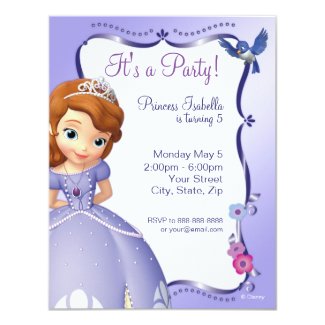 Sofia the First Birthday Invitation by disney
Find other Kids Invitations at zazzle.com
Why use boring stamps from the post office when you can really get into the party theme and create your own stamps! They will really make the invitation "pop".
Imagine the delight that a little girl will have when she receives an actual piece of mail-addressed to her-with Sofia the First on the envelope!
Sofia: Princess from Within Postage Stamp by disney
Look at more Sofia the first Stamps at zazzle
This stamp is one of nine choices a fan of the purple princess has. It can be customized with different background colors.
Sofia the First Paper Goods and Decorations
When your guests arrive at the party, it should be fit for a princess! A pretty table will help put the girls in a royal mood.
Princess Party Crafts
Most little girls love to craft, so having one or two planned during your Princess Sofia party fits the bill. Her are some ideas for you to try:
Decorate Princess Sofia Goody Boxes
Materials
Purple goody boxes with each girl's name written on the bottom in Sharpie
Paper bowls for each girl's stickers
Give each girl one empty box and a bowl of sticker shapes. Have them cut out the pictures and glue them to the goody boxes. They can also use foam peel and stick stickers for additional decorations. While they are having snack, fill up their boxes with your goodies.
Decorate Princess Cookies
Materials
Pre-baked cookies -2 or 3 for each girl

Items to decorate the cookies, like princess sprinkles, in separate bowls with plastic spoons

Plate with each girl's name on it
Give each girl two cookies and icing. Let them decorate the cookies any way they want. When they are done decorating, gently wrap them up so they can put them in their goody box.
Bead a Royal Necklace
Materials
Pink, purple and white pony beads

Elastic cord, already cut and knotted on one end

Bowl for beads
The girls will bead their own princess jewels.
Games to Play at Your Sofia the First Party
No party would be complete without some games! Here are a few to try at your soiree!
Freeze Dance
Put on the Sofia the First soundtrack and play freeze dance to it!
Hide the Shoe
Queen Miranda meets KIng Roland when he visits her shoe shop. Play a game called "hide the shoe". Using Princess shoe party favors, hide them around the house. Give each girl the goal to find all the shoes and work together. Have a big basket to collect them all. At the end. count and make sure they are all there!
Pinata
Food to Serve at Your Party
Some ideas for natural purple food:
Grapes

Organic grape fruit snacks

Clif Kids Twisted Fruit Ropes, grape

Brothers-All-Natural Princess Apple Crisps

Blue tortilla chips
Tradition dictates that a birthday cake be served. There are many different Sofia the First edible cake toppers and decorations, including candles, that can make your cake fit for a princess!
Sofia the First Party Favors
There is no tradition that guests at birthday parties love more than receiving their goody bags at the end of the party! It's a little thank you gift for attending, and children love the surprise threats they receive inside the box or bag.
Planning your daughter's Sofia the First birthday party is going to be a lot of fun for you!