*This post contains affiliate links.
One of the things that I have enjoyed as a mother is putting together birthday parties for my three children. Unlike most adults, they still get incredibly excited when their special day is about to arrive. I cannot get away from our family tradition of tying balloons to the mailbox so that everyone who drives by knows that it is their special day.
My younger children also insist that the house be decorated with signs and streamers. I know firsthand how quickly the sands of time slip away, and before I know it, I will be dropping them off at college and may not even be with them on their birthday.
I have always asked my children what kind of theme they wanted for their birthday party. Typically, it has been whoever was popular during that year. Teletubbies, Powerpuff Girls, Barney and Barbie were all themes that my older daughter had when she was younger. For my twins, specialty party goods that featured Phineas and Ferb, The Wiggles, Hannah Montana (for my daughter) and SpongeBob Square pants (for my son) were themes that appear in party pictures taken long ago.
Disney' movie, Frozen, is a mega hit in its own category. With strong female leading characters and funny supporting male leads, children are still asking for a Frozen birthday party theme, years after the movie left the theaters. Here are some ideas for decorations, games, food and crafts that will be sure to make your Frozen birthday party a hit!
When to Send Out Invitations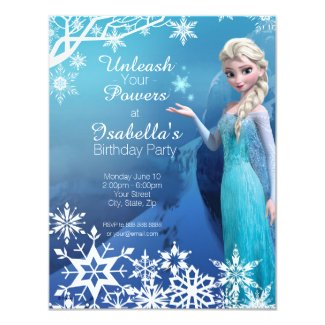 Frozen Elsa Birthday Invitation by disney
Check out Kids Invitations online at zazzle
You need to send out party invitations at least three weeks prior to your event. That gives parents time to clear calendars, find child care for younger siblings, and to change lessons or classes so that their child can attend the party if there is a conflict.
The RSVP date should be firm and one week before the date of the party. People can be forgetful and downright rude when it comes to replying to your invitation. While you will need to be prepared and accommodate for these last minute additions if your party is at home, venues need a firm head count to plan.
One copy of each character per child, printed out on cardstock

Paper bag to keep found items
Large plastic bag filled with marshmallows, one per child playing the game

Music
Snowman drawn onto posterboard

Snowman parts-one per child. Hat, scarf, nose, eyes, pipe, buttons, etc.

Tape

Blindfold
Toilet paper rolls

Hats (one per group)

Scarves (one per group)

Paper buttons (three per group)