*This post contains affiliate links.
I
f your child enjoys watching Sesame Street, then having an Cookie Monster birthday party is a fun theme to have. Toddlers and preschoolers, along with their parents, have been loving Sesame Street and it's colorful Muppet characters since 1969. Celebrating a birthday with this theme would make a child's day.
Cookie Monster Party Invitations
You can buy custom made Cookie Monster birthday party invitations online from
Zazzle. The details can be customized for your child's party.
Cookie Monster Birthday Card by SesameStreet
See more Children Invitations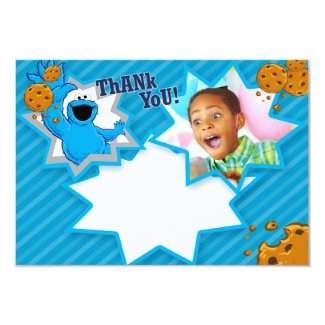 Customizable Cookie Monster Thank You Card by SesameStreet
Find other Birthday Invitations at zazzle.com
Have Guests Wear Blue!
On the invitation, ask guest to wear their Sesame Street themed clothes or to wear blue to get into the spirit of the party!
Paper Goods and Decorations
Paper goods and decorations for a Cookie Monster birthday party can easily be found online. Shindigz has an entire line of Sesame Street party goods that will fit right in.
If your child just wants Cookie Monster, then you can purchase blue plate and these napkins.
Crafts for the Birthday Party
If the children are aged three and up, they are able to do some crafts with a little adult help.
Buy inexpensive foam picture frames, peel and stick magnet strips and peel and stick foam shapes. Sesame Street stickers can be found on Amazon. Take a picture of the party guest with the furry blue monster stuffed animal and print it at the party. While the kids are eating cake, have a helper glue the picture to the frame and you have a great party favor!
What's a Cookie Monster birthday party without cookies! Before the party, bake one very large sugar cookie for each child. Have tubs of vanilla icing, as well as icing that is dyed blue with food coloring. Buy toppings such blue M&Ms, blue sprinkles and white sprinkles. Write each child's name on the plate and let them decorate it! You can either wrap it for a party favor or let them eat it instead of cake.
Or you can make your own Cookie Monster cookies and have the kids decorate them to their liking.
For this birthday party craft, see if the craft store or Dollar Store has a cheap ceramic jar or holder of some type. Carefully using craft pens, have the children make their own cookie jars!
Games to Play
A pinata would be a lot of fun. Fill the inside with mini bags of Oreos, Chips Ahoy and other prepackaged cookies.
Run off pictures of Cookie Monster on cardstock and glue them to a stick. Hide them around the party area. Have the kids go and find Cookie!
A variation of this game is to hide play food cookie around the house and have the kids find them.
Freeze Dance Play music from a Sesame Street CD and start the dancing.
Birthday Cake
Every birthday party needs a birthday cake! If you are the creative type, you can buy a Wilton cake pan shaped like our favorite Muppet and make one yourself.
Cookie Monster Party Favors
At the end of the party, all of your guests should leave with a goody bags. Purchase blue plastic goody bags for you to put in all sorts of goodies. If you do not want to stuff bags, buy each guest a bag of cookie mix or a box of cookies for snacking on later.
Want a simple Cookie Monster party favor? Hand out one box of these organic cookies, which are also available in vanilla.
Since he is now eating healthy foods, you can give story books or coloring books featuring him as a birthday party favor. Those books will be read over and over and not give the kids a sugar rush!
It is easy to have a Cookie Monster party! Your child is going to love it.